Local Wildlife.
A small group of big and little kids spent a sleepless night over a Whitsun half term camping wild in ....

A touch of the Forest.
A quick weekend in the wilds of....

Multi-Activity Camp in Edale, Derbyshire.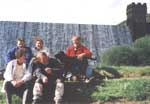 Whitsun and Bank Holiday Weekends are popular with our own Marquee, toilets, water, kitchen facilities and our famous Guided Programme. Will suit both families and adults!
Price per adult for 3 days, 2 nights: £60
Friday night free. Children £10
Programme for 4 days includes
breakfasts, off-road cycling, walks, orienteering, camp songs and marshmallows. Good old-fashioned community fun!
Big Family tents available for hire.

Camp in France with a difference.
Arranged for June (plus other weekends/weeks in the year) go to a 4 star campsite near Pegasus Bridge with trips to Bayeux, Honfleur and cycling to Caen. Click here to receive more information