Welcome!
'The Pickwick Club is therefore hereby constituted; the members are requested to forward accounts of the whole of their journeys and investigations, of their observations of character and manners, and the whole of their adventures, together with all tales…'
'Bother', said Pooh.
Wild Woods, Camp Fires & Cooking Adventures ..

Reflections and pictures on skiing at Risoul 2003 ...

A Trip at Rutland to whet the appetite ...
For those who haven't been here before why "Bother" ?
I have spent several years as a teacher specialising in arranging and leading activities to stimulate young people.

Whenever adults joined in they seemed to thrive and want more. After countless encouragements at dinner parties the plunge was been taken. Ian Rigg
The Adventure Club was thereby constituted.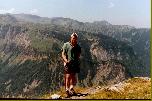 Contact us and we will discuss with you - your event, activity, holiday or expedition. You can form your own group or we can collect like minded people for you. We'll then liaise with you as we do the planning and the costings. As we progress we can make changes and we can be on hand to be the 'Man Friday', if required.
"Cheers. Was the best I've had in years" could be what you say when you get back