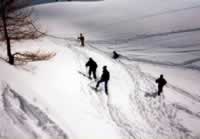 Our favourite ski resort is Risoul at 1850m and Vars at 1650m making up 'Le Forét Blanche', which has an excellent snow record until April. The two villages have their own style. Risoul is a lively, typically French ski station with friendly bars and clubs. Vars is much bigger with lots more shops and bustle!
The ski area has 5 small valleys radiating from two peaks, each with it's own unique flavour providing 180 km of tree lined and open sloped pistes up to 2750m. In between are numerous deep gullies that provide endless off-piste runs that can suit beginners and advanced skiers.
You only need an expert guide - me and the days are just packed! For a slower pace you can 'cruise the blues' visiting the panoramic cafés and 'taking in the rays'.
In 2001 we had sun and loads of new spring snow. In 2002 we did a few things we weren't expecting to