THE VISION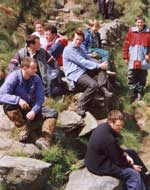 We will capture the fun of Camping as it used to be. Our camp is next to a bubbling stream with rock pools and trees to set up rope bridges.
We are surrounded by the hills at the head of the Edale Valley, with with the Roman Fort of Mam Tor looming over us. There is no one near us so we can be as relaxed as want to be.
We will cook communally over open log fires. Sausages on sticks, baked potatoes and marshmallows taste so much better in the open air!
The days will be packed, with a fully guided programme catering for all inclinations, abilities and ages.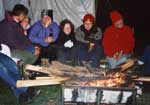 When the day is over we have a challenging orienteering route or you can sit by the campfire telling storie, singing songs or just chilling out.
THE BACKUP
We will have a marquee, big enough for us all to eat in or sleep in if it gets really wet. It has a fully equipped kitchen and electric lights so you can have hot water, hot breakfasts, and drinks or prepare hot meals. The camp will have water on tap and and executive portable toilets. Other toilet facilities or showers are available nearby.
Cars can be parked on hard standing next to the field and we will carry your equipment on to the site by Land Rover if necessary.

Price per adult for 3 days, 2 nights: £60
Friday night free. Children £10

PRICE INCLUDES
Campsite Toilets Marquee Fully equipped kitchen
Water on tap BBQ facilities & Log fires
Cooked breakfasts Tea, Coffee, Milk
Leaders for activities
Evening Meals are self catering with food from home. Friday night is a Pub Meal.
Suggested menus will be provided along with equipment and clothing lists.